Michael Edwards – Composer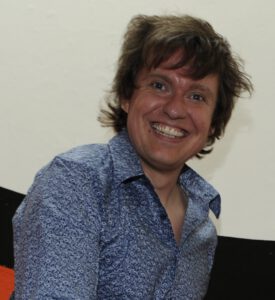 I'm a composer, performer, and software developer. I teach at the University of Edinburgh. I'm the author of the slippery chicken algorithmic composition package. My compositional interests lie mainly in the development of structures for hybrid electro-instrumental pieces through the integration of algorithmically produced scored materials with similarly generated computer-processed sound. I'm also active as an improvisor on laptop, saxophones, and MIDI wind controller, performing for instance at the 2008 Montreaux Jazz Festival.
I studied composition at Bristol University with Adrian Beaumont (BA, MMus) and privately with Gwyn Pritchard. In 1991 I moved to the US for further studies in computer music with John Chowning at CCRMA, Stanford University (MA, Doctor of Musical Arts). Whilst studying there I also worked at IRCAM, Paris, with a residence grant at Cité des Arts. During 1996-7 I was a consultant software engineer in Silicon Valley and developed a Document Recognition System used in several US hospitals. In 1997 I was appointed Lecturer in Music Theory at Stanford but later that year moved to Salzburg, Austria. I was Guest Professor at the Universität Mozarteum until 2002, when I came to the University of Edinburgh. http://www.michael-edwards.org.
Shradha Jain – Photographer and Video Artist
Shradha is a Fine Art graduate specializing in Printmaking from College of Art, Chandigarh. She further pursued post-graduation in Film & Video Communication Design from the prestigious National Institute of Design, Ahmedabad. As part of one of her projects with NID, she travelled extensively in the North Eastern parts of the country for over a period of three years where she visually documented the indigenous textile traditions.
Shradha's primary interest lies in studying and reviving the rich cultural heritage of traditional board games and play culture. She is committed to documenting and representing various forms of play that form a seamless cultural tradition overcoming geographical boundaries. She is interested in exploring the politics of play and creating meaningful public spaces with an intent and content with a recreational value for the participating actors. She is exploring community art as a means of engaging neighbourhoods with their rich history, creating opportunities for creative expressions of interacting with familiar spaces in unfamiliar ways.
She has been part of the UnBox Fellowship in the year 2012 & 2014 and was also part of a six-week 'Games Residency' at KHOJ, Delhi earlier this year. As a recipient of Ford Foundation Scholarship in the year 2010, she made a craft documentary on the traditional Punjabi footwear titled "Hide Under my Sole". The film was shortlisted and screened at various Film Festivals including 9th Jeevika Livelihood Documentary Film Festival (New Delhi, 2012); Heritage Film Festival (Ahmedabad, 2012) and the Craft Film Festival organized by the World Craft Council (Chennai, 2012).
She currently lives and works from her studio based out of Ahmedabad that aims to promote the culture of playing games in the city. She started a board game café and a restaurant along with her parents in Ahmedabad city in February 2014. https://studioclockworks.wordpress.com
Vidit Narang – Graphic Designer

Vidit Narang is a Visual Communication Designer based in New Delhi. He holds a Bachelor's in Graphic Design from the National Institute of Design, Ahmedabad, India (2009). His practice explores the intersection of design with moving image in the form of video, animation & motion-graphics. In 2013, he won a one-year scholarship to work as a researcher with Fabrica, the Benetton Group Communication Research Center in Treviso, Italy. He is an obsessive doodler and has a keen interest in writing. Kids influence him in many ways; their ability to keep things simple while being indulgently whimsical makes him want to apply a childlike understanding to everything he does.
Maria Patsarika – 

Researcher (survey design and analysis)
I am a Research Associate at the School of Architecture, University of Sheffield, to the project Children Transforming Spatial Design: Creative Encounters with Children (Leverhulme project, 2013-2016) and Adjunct Professor at the American College of Thessaloniki, Greece, at the division of Humanities and Social Sciences. My research and teaching activity are both interdisciplinary, informed by studies across History and Archeology, Culture and Heritage, Sociology and Architecture, and professional partnerships with diverse institutions, from young people's and architecture NGOs to the Houses of Parliament, London.
My key research interest is children's and young people's place in the world, be this the spaces that they use or the role that they assume and are ascribed by others in society, and, more specifically, how their casual ways of being are being juxtaposed to the more formal contexts of learning and civic engagement. This involves, for example, exploring margins in relevant theories and practice, such as formal/informal, playful/serious. I particularly enjoy exploring metaphors in space to inform theory development and, conversely, bringing together concepts from different disciplines (sociology, architecture, psychology) in order to inform design or educational and learning practices.
My role on the mNap project is one of research design and analysis. My interest in the project lies in the development of creative engagement methodologies, interdisciplinary collaboration and promoting a multisensory, hence more rounded, understanding of people's experiences in the city.
Tatjana Scheider – mNAP designer
I'm an architect by training but have been working as an educator and researcher at universities for the past 15 years. I currently divide my time between the University of Sheffield in the UK and the Hafencity Universität Hamburg in Germany. My work is concerned with the mechanisms of the production of space and how power is played out through planning, urban design and the making of individual buildings – both historically as well as in the present. Most of these investigations take the form of written pieces, but it also takes activist dimensions at times.
My interest in this project – the mobile noise abatement pod – stems from a concern over how much of the built environment is produced within the safe walls of offices, where planning, it seems, very often just happens. Lines aredrawn without considerations of consequences for those who actually use cities and the spaces within them. Makinga soundproof box that is mobile, allows us to have discussions about sounds and noises as well as their meaningswhich often relate to the construction of identities, in the space of the city.
Persis Taraporevala – Coordinator
 Persis Taraporevala is a development practitioner with a keen interest in rights, community-based empowerment and the arts.
Persis has read for an MPhil in Development Studies from the University of Oxford and a Bachelor's degree in English Literature. She has worked largely around governance, from the perspective of decentralised indigenous forest conservation processes and the theoretical underpinnings of citizenship in the urban context. She is a trained classical dancer and has recently engaged in social justice and community-building through the arts, thus allowing for her previously water-tight compartments of development practice and art to blend into a chaotic and creative mix that she is just beginning to understand. @silatoria